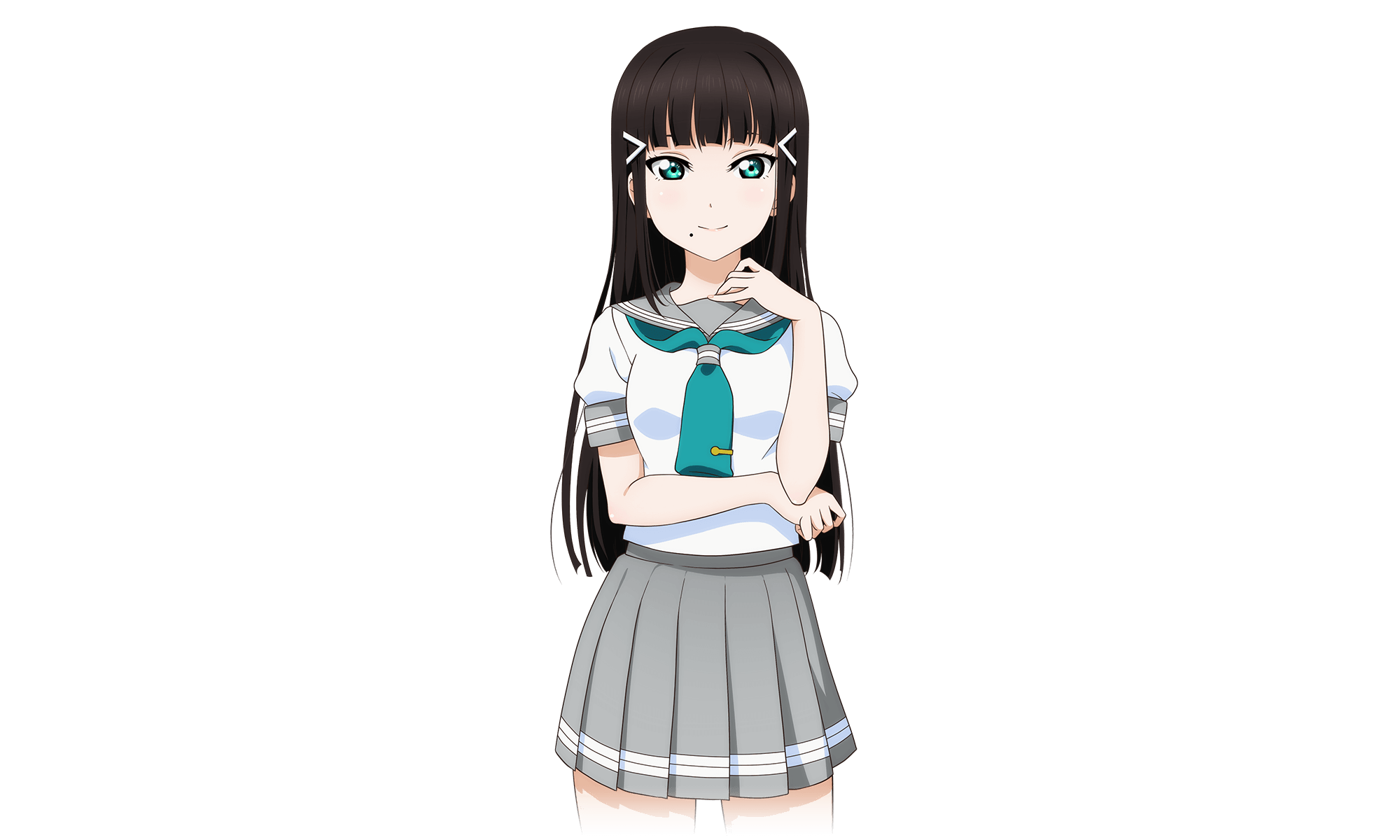 Name
Kurosawa Dia

黒澤 ダイヤ
School
Uranohoshi Girls' High School
Measurements
Bust

80cm

31"

Waist

57cm

22"

Hips

80cm

31"
Liked food
Green Tea-Flavored Sweets, Flan
Description
From All Stars: A third-year student who leads the student council. She is from an old fishing family whose name is well-known in the area. Prideful and perfectionistic in her ways, she can't abide it when things are done sloppily or incorrectly.
SIF2 MIRACLE LIVE - Attribute
Added by db0
F.A.Q.
What is Kurosawa Dia's unit?

Aqours

What is Kurosawa Dia's subunit?

AZALEA

What is Kurosawa Dia's school?

Uranohoshi Girls' High School

What is Kurosawa Dia's school year?

3rd year

When is Kurosawa Dia's birthday?

January 1

What is Kurosawa Dia's astrological sign?

Capricorn

What is Kurosawa Dia's blood type?

A

How tall is Kurosawa Dia?

1m 62cm (5'3")

What are Kurosawa Dia's measurements?

Bust - 80cm (31"), Waist - 57cm (22") and Hips - 80cm (31")

What is Kurosawa Dia's color?

#e70014

What are Kurosawa Dia's hobbies?

Watching Movies, Reading

What is Kurosawa Dia's liked food?

Green Tea-Flavored Sweets, Flan

What is Kurosawa Dia's disliked food?

Salisbury Steak, Gratin

What is Kurosawa Dia's lighstick color?

#f23b4c

What is Kurosawa Dia's sif2 miracle live - attribute?

Cool

How many fans does Kurosawa Dia have?

783

Who are Kurosawa Dia's fans?

Prim, kousakahonoka, stardustsonoda, otakuchicken, starry_rin, TocaVoca, Kuroyaza, Die4Dia, DiaKurosawa, Sammi-love, Ai, Germ.sheep, killua, diachan, subaruakehoshi, Praline and more