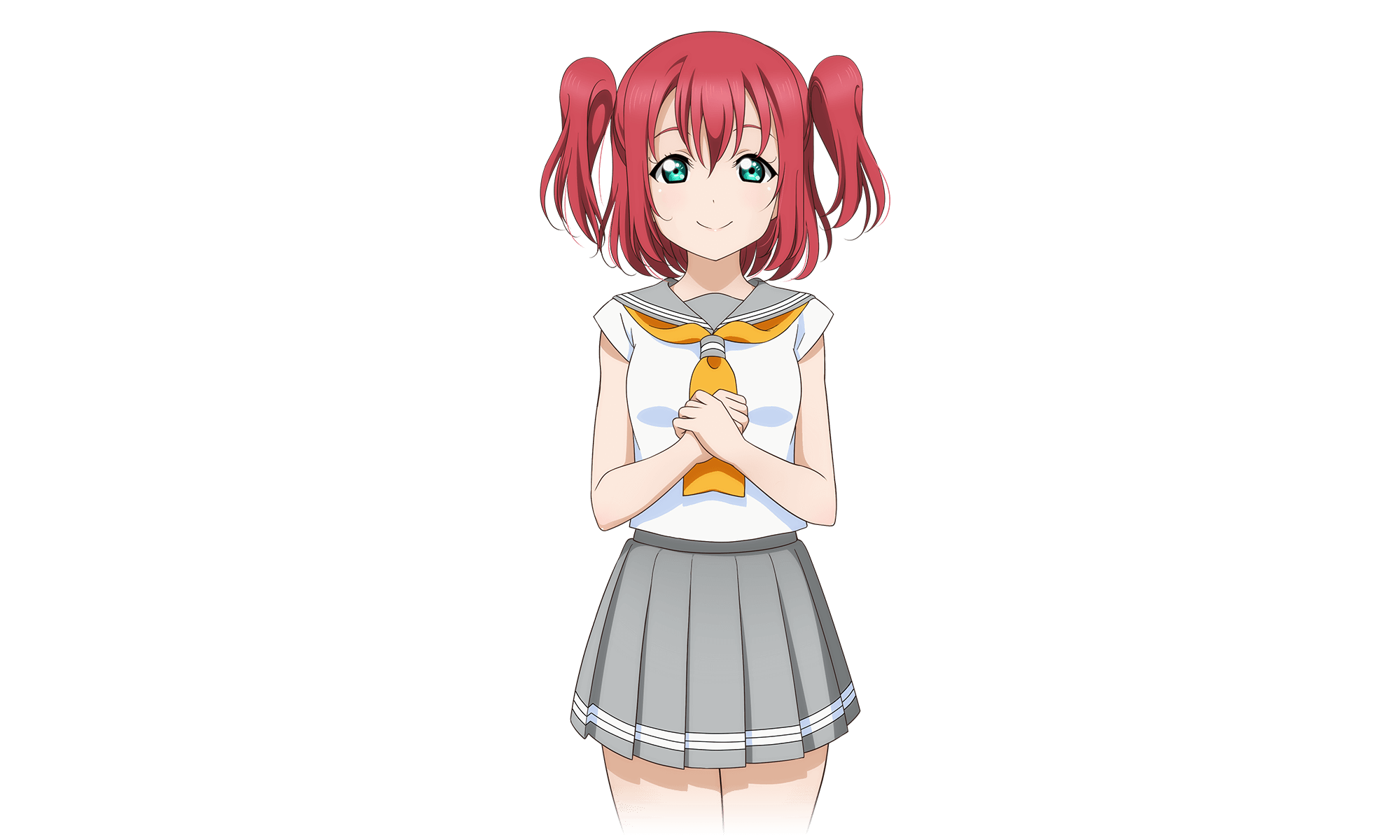 Name
Kurosawa Ruby

黒澤 ルビィ
School
Uranohoshi Girls' High School
Measurements
Bust

76cm

30"

Waist

56cm

22"

Hips

79cm

31"
Liked food
French Fries, Sweet Potatoes
Description
From All Stars: A first-year student who's almost always nearby her good friend Hanamaru. Fearful and tends to cry a lot, but she has a tough interior, forged by her role as a girl in a rich, well-known family. Always looked up to pop idols. Needlework is the only thing she's really great at.
SIF2 MIRACLE LIVE - Attribute
Added by db0
F.A.Q.
What is Kurosawa Ruby's unit?

Aqours

What is Kurosawa Ruby's subunit?

CYaRon!

What is Kurosawa Ruby's school?

Uranohoshi Girls' High School

What is Kurosawa Ruby's school year?

1st year

When is Kurosawa Ruby's birthday?

September 21

What is Kurosawa Ruby's astrological sign?

Virgo

What is Kurosawa Ruby's blood type?

A

How tall is Kurosawa Ruby?

1m 54cm (5')

What are Kurosawa Ruby's measurements?

Bust - 76cm (30"), Waist - 56cm (22") and Hips - 79cm (31")

What is Kurosawa Ruby's color?

#ee6da6

What are Kurosawa Ruby's hobbies?

Clothing, Needlework

What is Kurosawa Ruby's liked food?

French Fries, Sweet Potatoes

What is Kurosawa Ruby's disliked food?

Wasabi

What is Kurosawa Ruby's lighstick color?

#fb75e4

What is Kurosawa Ruby's sif2 miracle live - attribute?

Pure

How many fans does Kurosawa Ruby have?

777

Who are Kurosawa Ruby's fans?

Ruby, PuddiCat, Haru, Marcy, Elbymu, Sookie, CYaRon, Magnithan, SheepyKanata, redgemwink, Rinatakos, SleepyPiplup, Odie, rubymaru, GrandPrintemps, IDK and more