March 20, 2023 01:28:47 +0000
(

UTC

)
db0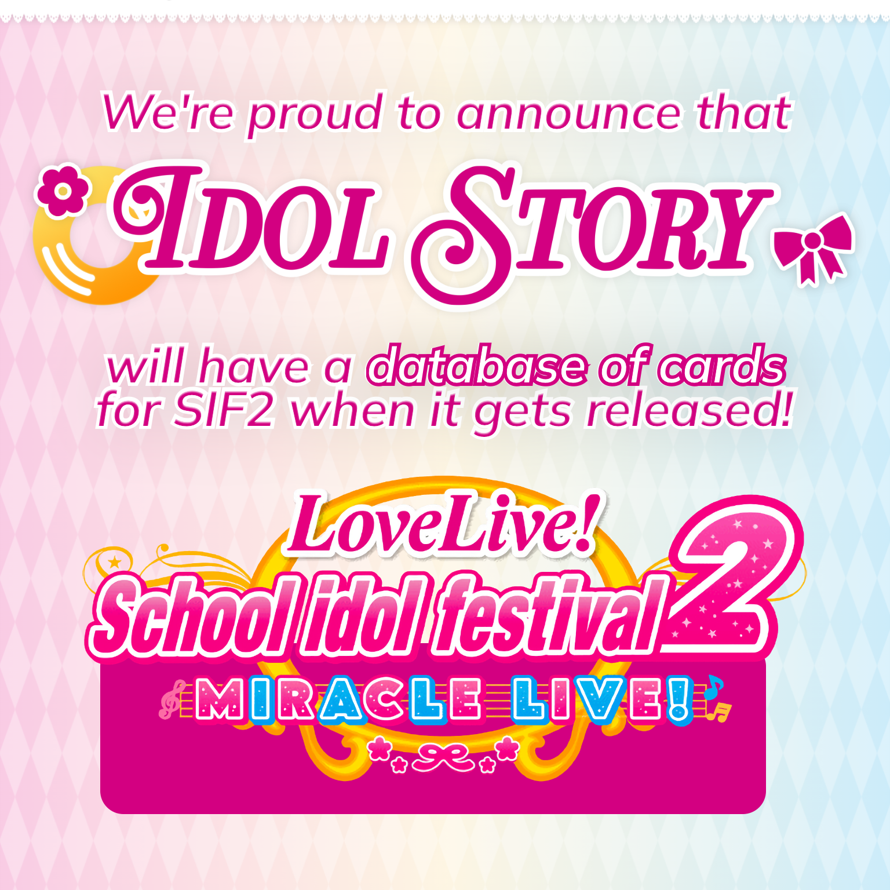 Hello everyone! 👋
I'm db0, and together with Hoshino and Memoly (who has since moved on), we co-founded your favorite Love Live! database and community: 🌼Idol Story🎀!
With the announcement of SIF2, we have been receiving a lot of messages asking us if we were planning to cover SIF2, or if we could consider creating a new, separate "Circles" app about SIF2. 🤔 So here's our answer to that question!! 🕵️
From the very beginning, the goal of 🌼Idol Story🎀 has always been to be your one stop for everything Love Live!, and although we started with SIFAS, we're slowly extending to include more details about the license as a whole. For example, we have really cool pages about all the idols in the license (even Liella!, Hasunosora and School Idol Musical), as well as all the voice actresses 🎤👧. Our database of songs is also worth checking out 😉🎶
I'm sure you know where I'm getting with this: since our goal is to cover everything Love Live!, it only feels natural that we would want to cover SIF2 as well!!
Idol Story will cover SIF2 🎉🎉🎉
Yaaaaay!!
We already know we'll have a database of cards 🃏 and songs 🎶, including a way for you to keep track of your SIF2 cards on your own, customizable profile. If you already signed up, you'll be able to have both your SIFAS and SIF2 accounts under the same profile!
As we learn more about the game and until it gets released, we're deciding on the features we plan to develop to help make your SIF2 experience smooth, enjoyable, and of course, add that "community" aspect to your gaming we know you all love.
I hope you'll look forward to that! And if you're new to Idol Story: WELCOME! 🤗 We're super excited to get more members thanks to SIF2 💖 I guarantee you'll love it here 🥰
You may have noticed, but we already started covering SIF2 news!! 📰 So if you want to make sure you don't miss anything, you can follow 🌼Idol Story🎀 on Twitter and Instagram.
In order to make sure our team can handle the new workload, we have recruited new members. Please welcome to the team Zuramaru, Kyo and Epikkyu 👋🎉🎉. Old timers have also been joining the efforts: shoutout to Apple, Zura, Aliza and Sam 😎💕✨
---
SIF1 shenanigans
Our big sister School Idol Tomodachi, who has been supporting us from the beginning, is a database of cards for SIF1. They too have been receiving messages asking if they'll cover SIF2. Since it's an older app that doesn't use our newest, more performant and more advanced framework, its development stopped a few years ago, apart from basic maintenance and bug fixing. This will not change, so it will not cover SIF2, and you'll have to come to 🌼Idol Story🎀 for that.
However, it will remain online, even after SIF1 closes! 🎉 That means that if you play SIF1 and you'd like to keep an "archive" of your cards to look at them later and reminisce, we encourage you to sign up to School Idol Tomodachi now and add your cards collection there.
I'm sure you heard of the European drama that's been going on: all Europeans players were denied the option to transfer to SIF2, and many players around the world have been wrongly tagged as European and will not be able to transfer as well, and that sucks. I'm one of those players, unfortunately. But for the lucky ones who have been able to get a transfer code, I plan to look into allowing you to transfer the cards you added to School Idol Tomodachi to your (future) SIF2 account on 🌼Idol Story🎀. So that's another reason to update your collection there!
You can hear more about School Idol Tomodachi's side of the conversation here.
---
Donations
I'm sure you can guess, running 🌼Idol Story🎀 costs me a lot of money, because I decided to provide the highest quality images for you to download - I want you to have the best Love Live! experience you can get 🥰🥰🥰 As an example, last month (February 2023), I spent $842.34 on server and other techical fees, and thankfully received $526.64 in donations which helped cover some ot it.
So if you'd like to support my projects 💪: 🌼Idol Story🎀 growing to cover SIF2 and everything Love Live!, but also School Idol Tomodachi being kept alive as an archive of our precious SIF1 memories, please consider donating 🤗💕
You can donate on Patreon, PayPal or Ko-fi.
Of course, you should only donate if you can afford it! I understand if you can't, and appreciate your support either way <3
Conclusion
I believe that covers all the questions we've been getting in DMs, but if you have any other question, feel free to message me. The easiest way is to send me a private message on 🌼Idol Story🎀, right here! The rest of the team is available on Twitter, Discord, and many more places: check out our contact page.
On behalf of the 🌼Idol Story🎀 staff team, I'd like to thank you all for reading up to here, for using our silly little idol apps, and for your continuous love and support. I LOVE YOU ALL SO MUCH!! and I can't wait to start this new Love Live! chapter with you 🔥💕💕
db0.