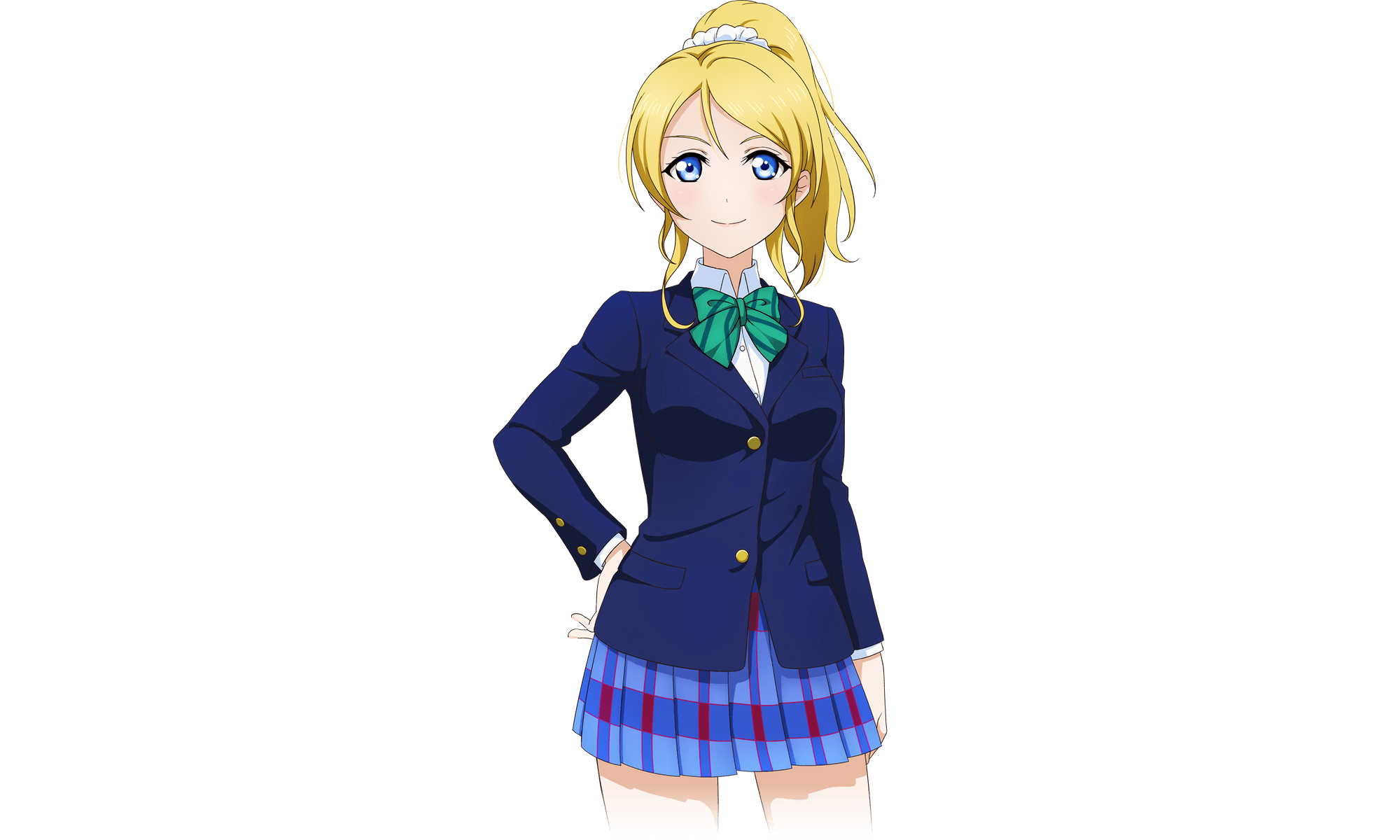 Name
Ayase Eli

絢瀬 絵里
Measurements
Bust

88cm

35"

Waist

60cm

24"

Hips

84cm

33"
Hobbies
Making Quilts and Accessories
Description
From All Stars: Eli is a third-year high school student. She is a quarter Russian. She is clear-headed, has unparalleled physical flexibility, and can do almost everything at an above-average level. Even at school, she is very popular, and is admired for having a strong sense of responsibility.
SIF2 MIRACLE LIVE - Attribute
Added by db0
F.A.Q.
What is Ayase Eli's unit?

μ's

What is Ayase Eli's subunit?

BiBi

What is Ayase Eli's school?

Otonokizaka Academy

What is Ayase Eli's school year?

3rd year

When is Ayase Eli's birthday?

October 21

What is Ayase Eli's astrological sign?

Libra

How old is Ayase Eli?

17 years old

What is Ayase Eli's blood type?

B

How tall is Ayase Eli?

1m 62cm (5'3")

What are Ayase Eli's measurements?

Bust - 88cm (35"), Waist - 60cm (24") and Hips - 84cm (33")

What is Ayase Eli's color?

#1eb8ec

What are Ayase Eli's hobbies?

Making Quilts and Accessories

What is Ayase Eli's liked food?

Chocolate

What is Ayase Eli's disliked food?

Dried plums, seaweed

What is Ayase Eli's lighstick color?

#36b3dd

What is Ayase Eli's sif2 miracle live - attribute?

Cool

How many fans does Ayase Eli have?

544

Who are Ayase Eli's fans?

Suzu2203, Tae, klabhatesme, cinnarollbun, Elbymu, VonHresvelg, harayousoros, MINT, Sammi-love, King, zippyzopps, TakamiChika, eliayase, eli.ayase, osakashizuku, Anfrea and more